*IVA Incluido / VAT Included
Our Security Roof Trays are a great way to carry your Nomad Boxes.  The 3 mm aluminum sheets are folded three times on each side, which gives the structure rigidity and strength while keeping weight down, only 5.15 Kg.  High security tubular locks with dust caps and stainless-steel D rings.  Designed and built by us in the EU.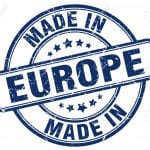 Loading...
Description
Features:
3 mm Aluminium sheet laser cut and folded with foldable security arch.
Two high security tubular push button cam locks, 4 keys keyed alike, with dust caps.
The locks cam bolts are fixed with permanent thread locker to prevent theft.
Eight stainless-steel D rings
Four holes on each side of the tray, so you can bolt two or more trays together.
The Roof Tray holds two Nomad Boxes in lengthwise manner.  The tray is 109.5 cm. long and 45.5 cm.  This disposition seemed to be the most adaptable dimension to width of the roof support systems of most vehicles, but the Roof Tray can also be mounted lengthwise on the vehicle.
The aluminium security arch is hooked into the two locks when in use, but when you don't feel the need to use the security arch, it can be folded 90° flat before the boxes are placed in the tray. The arch will not interfere with the boxes and or the tie-down straps. Hooked under the folded side of the tray it will not rattle or flip around.  A 3 m. tie down strap will be enough to secure each box.
The D rings are bolted under sufficient pressure so they will not rattle if not strapped down, but will allow you to fold them up and down by hand.
You can use the Aluminum Roof Tray as roof rack to secure with the tie-down straps other items as well, such as jerry cans, bags or other boxes. The laser cut Aluminium is left in its original finish and may present some cutting and folding marks, acquire a patina over time, but we feel that it is in this manner more resistant for rough conditions than if we were to paint it. Function and practicality first!
Two optional mounting kits.  See attached sketches for the two different mounting systems which would best fit your needs.
Additional information
| | |
| --- | --- |
| Weight | 5.15 kg |
| Dimensions | 111.5 × 47 × 6 cm |
Dimensions and Weight
Tray dimensions.   Ext: 109 x 45,5 x 5 cm.   Int.: 104,3 x 40,3 x 4,7 cm.
Tray dimensions with hardware. Ext.: 111,5 x 47 x 6 cm.
Weight: 5,15 Kg.
FAQ
For whom is this ceiling tray intended?
The Roof Tray is intended for those who wish to transport their Nomad Boxes on the roof of their vehicle on a roof rack or roof bars safely.
What can I or should I carry inside the Nomad Boxes on the roof of the vehicle?
Because of issues of accessibility and comfort, we usually recommend packing those items that we always carry just in case, and that with a little luck they will return home unused; spare parts, special tools, an extra tent or sleeping bag, etc. If the trip is long, you can also carry things that will be used later in the trip.
Is the Universal Roof Tray suitable for any vehicle?
In general, yes, with little or no engineering on your part. They can be mounted on universal roof bars or a roof rack.  We have clients that in their off-road race truck have opted to mount the trays inside the vehicle to keep tools and spare parts safely tied down.
What can be transported on top of this roof tray?
The Roof Tray is designed for two Nomad Boxes, but with a little inventiveness you can carry many things from jerry cans to travel bags. If you only have roof bars, joining two or more trays together you can create a good platform that serves as a 4×4 roof rack.
The Nomad Rooftray is even for your aluminium box ? For 1 or 2 aluminium box (70 L).
While TheNomadRoofTray was designed for the NomadBoxes, it can be used for other items.  I tested your question and have attached a photo of the result.  Without the security arch, one 71 L will fit but not two.  On the other hand, one 71 L Aluminum Box and one 39 L   Aluminum Box will fit.
Note that the picture was taken on a tray without the eye bolts mounted, but the tray would include these.